PETROLEUM TANK DROP HOSE WITH STATIC WIRE
SPIRALITE® 5100-00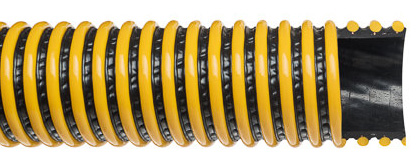 | NOMINAL SIZE (inch) | Approx OD (inch) | Rec WP @ 72° F (psi) | Approx Burst Pressure @ 72° F (psi) | Rec Min Bend Radius @ 72° F (inch) | Approx Weight (lbs/ft) |
| --- | --- | --- | --- | --- | --- |
| 2 | 2.66 | 100 | 400 | 4 | .87 |
| 2-1/2 | 3.19 | 100 | 360 | 5 | 1.13 |
| 3 | 3.76 | 65 | 260 | 6 | 1.71 |
| 4 | 4.79 | 65 | 260 | 8 | 2.44 |
Petroleum Tank Drop Hose with Static Wire
APPEARANCE / CONSTRUCTION:
-Black NBR tube & Cover. Polyester braid reinforcement and copper static wire.  "Safety yellow" rigid PVC helix
-Also available with bright ORANGE helix (5100-90)
BENEFITS:
-Excellent resistance to petroleum products and natural elements.
-Highly durable and constructed for ease of handling.
-Static conductive tube offers additional safety and peace of mind.
GENERAL APPLICATIONS:
-Gravity-flow delivery of gasoline and petroleum products with an aromatic content less than 50%
-Suitable for use with Ethanol and most Bio-Fuels
-Waste-oil suction and transfer.
-For use with Spiralite 5700 Banding Sleeves
TEMPERATURE RANGE:
-30F to +130F
STANDARD LENGTH:
Available in 100-foot lengths